Payment Terms - Payment will be required on collection or on order. Credit Cards and Cheques are not accepted. Payment can by made by cash or Debit Card, although due to our location connection to our card machine can be a little temperamental. Deposits are non refundable.
Our liability is limited to the cost of the animal, product or service purchased.

The Omlet Eglu Go and Go Up
in the leaf green colour are available for collection from Sunnyside Poultry.
The Eglu Go or Go Up is the simple, stylish, secure and straightforward way to keep a small back garden flock of chickens. It comes as a flat pack for easy transportation and is designed for you to keep three medium chickens. (Remember to allow a minimum of 1 square meter of outside space per bird) The Eglu Go comes complete with everything you need to get started. It has plastic roosting bars and a discreet nesting area which can be filled with straw or shredded paper. You can collect freshly laid eggs through the door at the back of the house and the slide out droppings tray makes cleaning effortless.

Due to the houses popularity and please call ahead to make sure the house you require is in stock. For a small deposit we can reserve for you.
Please note that delivery is not available on our Omlet products.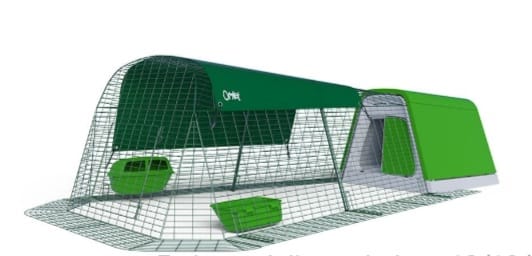 Omlet Eglu Go House Only - £275
Omlet Eglu Go House and 2m Run - £380 (*One left at 13/5/22* 2021 prices held till spring 2022, price increase on next delivery £435)
Omlet Eglu Go Up House and Run - £515
Go Up Frame and Ladder - £80
Go Up Wheelset - £60
Go Up 1m Run Extension - £100
Go Up 2m Run - £160
Go 1m Run Extension - £100

Go 2m Run - £160
All House packages come complete with Omlet Feeder, Drinker, Shade Egg Boxes and Guide.
You are buying direct from Sunnyside Poultry, authorised suppliers of Omlet products. Our own terms apply - Returns happily accepted within 30 days if goods remain totally un-constructed, complete and undamaged in original packaging. Where the goods are bought as part of a starter pack, the value of the goods included in the starter pack at our current prices will be deducted from the refund.
Easy to Clean - The Eglu Go has one large door at the back which allows easy access to the roosting bars, nesting area and droppings tray. Simply slide the droppings tray out, empty into the compost bin and rinse with a hose.

Insulation - The twin walled insulation and draught free ventilation keeps your chickens warm in the winter and cool in the summer.

The Run - Made from strong steel weld mesh impossible for predators to break. A unique anti-tunnel skirt sits flat on the ground and prevents animals from digging in. You can safely leave your hens in the run with the door to their house open if you are not in.

Run Door - The run design allows you to position the run door on the side as well as on the end.

Feeders and Drinkers - These are specially designed to attach to the run and they hold enough food and water to last three chickens two days.
Construction - This product comes as flat pack, for easy transportation. The box contains step by step instructions.

Please visit us on a Saturday if you require help lifting bags of feed or bedding into your car.

Please remember that it is illegal to feed your hens kitchen scraps or dried meal worms as your hens fall under livestock laws. This is due to the risk of bacterial infections passing from eggs to humans. We recommend that hens are fed age appropriate feed as their main food - ie layers pellets for laying hens must always be available. Fresh drinking water and grit must always be available. Corn can be given as a scatter feed (approx 1 handful per bird per day), and fresh, uncooked and unprepared vegetables, such as cabbage can be offered. Hens should not be given bread, rice, pasta etc.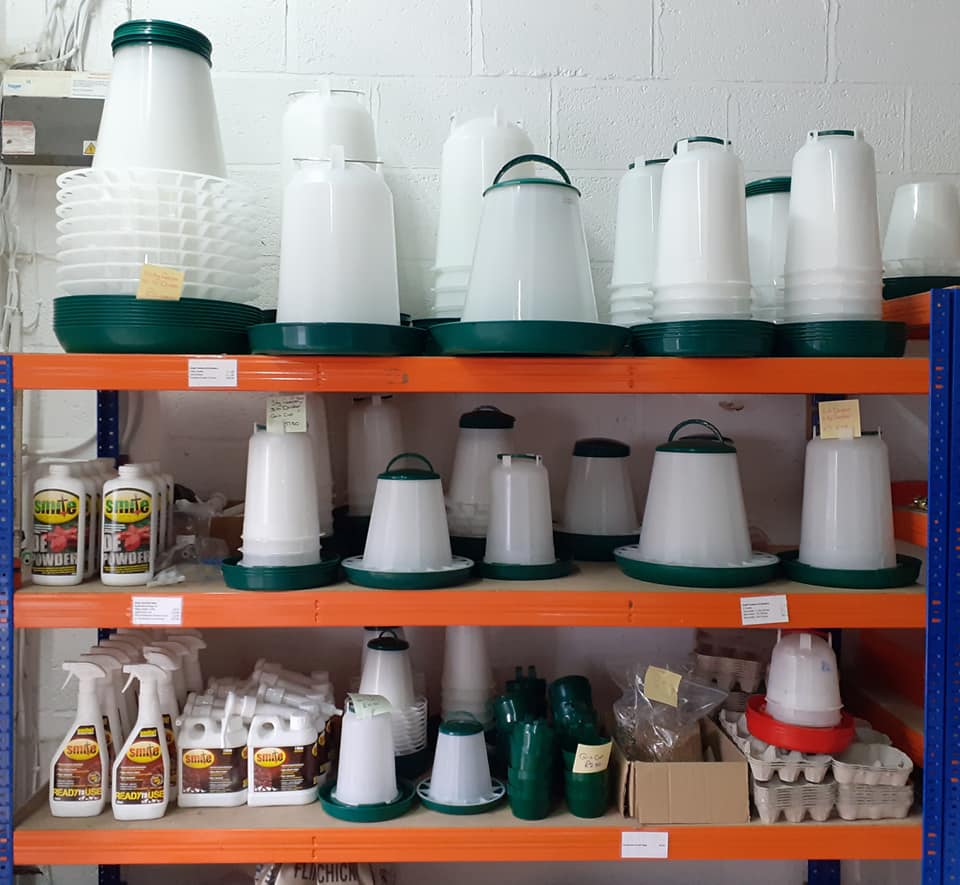 Feed - Prices correct at 27 April 2022

Layers Pellets 20kg - £10.50
Layers Meal 20kg - £10.50
Mixed Corn 20kg - £10.50
Growers Pellets 20kg - £12.00
Country Chick Crumbs 20kg - £13.00 (2kg bag £4)
Game Breeder Pellets (micro pellets ideal for quail and small bantams) 20kg -£12.00
Small Bags of Layers Feed / Corn (Approx 1kg) -£1.50
Rabbit Pellets 20kg (by preorder) - £15.00
Mixed Grit 1kg - £2.50, 2kg - £5.00, 25kg - £18.00
Bedding (poultry grade wood shavings)
Large Bale - £9.50

Feeders & Drinkers
We stock the popular green Eton range of feeders and drinkers, ranging in size from 1kg / 1.5ltr upwards.
Smite Anti Mite
A regular anti red mite routine is essential to poultry keeping. In order to keep a healthy flock we recommend a weekly clean out using Smite Disinfectant to keep red mite at bay and using the Smite Powder directly on your birds and in their nest boxes. We stock the powder and liquid disinfectant.


Starter Packs Please ask about a starter pack, which can put together to suit your requirements.

Outdoor Surfacing - Woodchip We occasionally have fresh woodchip available, which is bagged at point of sale. Please visit on a Saturday if you wish to purchase woodchip. Please feel free to bring your own bag.
Exclusive to Sunnyside customers - If you are going away on holiday and need someone experienced and reliable to take care of your flock, then our boarding service can provide a safe and comfortable place for your birds to stay.

Depending on the local situation with Avian Influenza, usually November to March, our boarding service may be affected by movement restrictions. Please check the latest restrictions in your area before bringing your birds to us. Please also ensure that your birds are showing no signs of illness before they arrive. Any bird considered a risk will result in the flock being turned away.
Holidays: We are closed for holidays on 12 August, reopening on 20 August. We are not contactable during this time and are not open for the drop off or collection of boarding birds.

All bookings are subject to the Terms detailed below with drop offs and collections made by appointment during our opening times.
How to Book
Please telephone, text or email once you have your holiday dates and we will book you in. If you telephone we will ask you to confirm your details by text or email. We will ask you to contact us to confirm and arrange a drop off time a few days before your booking.
Prices
Hens - We charge from just £1.50 per bird per night for hens, including feed (Heygate Layers Pellets). We have a minimum nightly charge of £2 per pen with a minimum overall stay charge of £20 per pen. This is to cover our bedding, time and feed costs.
For just an extra £2 per bird we can worm your hens.
Ducks - can be accommodated at £2 per bird per night.


Terms & Information
Please remember we are not available for drop off or collections on Sundays, Bank Holidays, when we have shut down over our summer holiday or when we have shut down over the Christmas and New Year period. When we are closed to the public, even if we are on holiday ourselves, we will still have someone reliable and experienced who takes care of our own and boarding birds.
For reasons of disease control this boarding service is restricted to birds purchased from us. Other birds will be considered on request, provided that they have been with you for at least 4 weeks.
Any birds we consider a risk to our own or other boarders will not be accepted.
We ask that your birds are thoroughly clean from all parasites or signs of disease. Please treat your birds with mite powder and give a wormer (if we are not worming for you) a few days before you drop them off.
Please ensure there are no signs of respiratory problems, runny noses, lice, mites, or scaly leg amongst your flock. Flocks considered a risk will not be accepted.
Birds are to be dropped off and collected during our normal opening times. We cannot look after pet carriers / transport crates or boxes whilst your birds stay. We cannot accept liability for damage to or losses of pet carriers or equipment left on our premises.
We will not accept liability for loss outside of our reasonable control.
Your flock will be housed in their own pen, next-door to other birds.
If a bird or animal in our care becomes sick or is injured we reserve the right to treat it as we we consider appropriate. If we need medical assistance from a veterinary surgeon we will contact you so that you can make the necessary arrangements. Any interaction with the vet must be between yourself and the vet. If animals need medical attention or or parasite treatment we reserve the right to made a reasonable additional charge to cover our time.
Please note that our insurance does not cover losses due to illness or injury, and will only cover proven purchase price in the unlikely event of theft.

If movement restrictions are imposed in our area due to Avian Influenza then you birds will be continued to be looked after well during their extended stay. This will affect your final bill for their stay.